SEMINAR ON SAFETY AND SECURITY
A special seminar was conducted for the students of classes 5-10 by the SHE TEAM, Hyderabad City Police, TELANGANA GOVERNMENT in association with BHAROSA, a single point support center for women and children against sexual abuse and domestic violence.
Dr. Radha Rani, a Clinical Psychologist, enlightened the students regarding the "Safe Touch". She emphasized on the importance of drawing a boundary in friendship and encouraged them to report any problem to their elders.
Ms.Suma Priya , an esteemed officer of the SHE TEAM ,TELANGANA POLICE conducted a session on "MY BODY MY RIGHT" and educated the children on the topic "STRANGER- DANGER". The students were also informed about the Cybercrime and were urged to protect themselves from being the victim.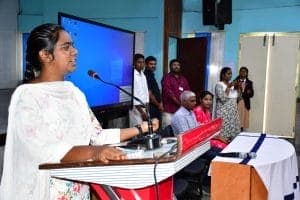 The session ended with an overwhelming response from the students in the form of queries.