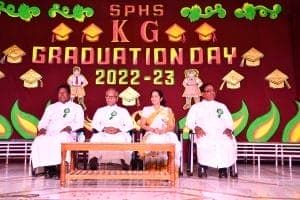 The K.G. Graduation Day was celebrated on 11 March 2023 in St. Paul's High School. This was an event filled with joyous fervour excitement and a sense of accomplishment for the young graduates.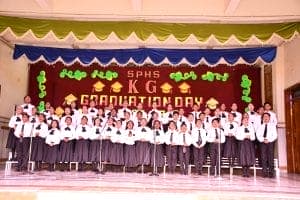 The celebration started with a prayer song and the theme song " Review, Refresh, Restart" set the tone for the day's proceedings.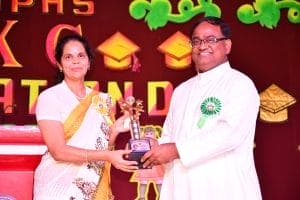 The Principal Rev. Bro. Sudhakar welcomed the Chief Guest Ms. Suneetha Sapur, a Nutritional Consultant Advisor and Scientist and the august gathering of parents highlighting the achievements of the kindergarten students and expressed his pride in their growth.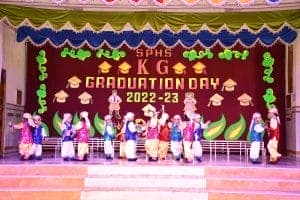 The Prize Distribution ceremony recognized the efforts of the young achievers motivating them to strive for excellence in the future endeavours.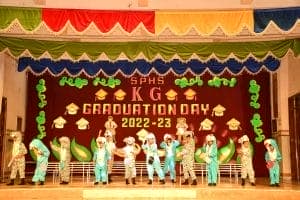 The Primary School report that followed acclaimed the progress of the school in academics, sports and co-scholastic activities.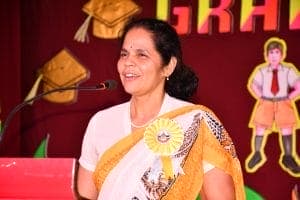 The Chief Guest Ms. Suneetha Sapur a prominent figure delivered an inspiring speech
emphasizing the importance of a balanced nutritional meal and the demerits of using e-gadgets and the role of parents in shaping the young minds.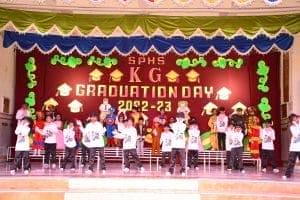 The cultural programme featured a dazzling presentation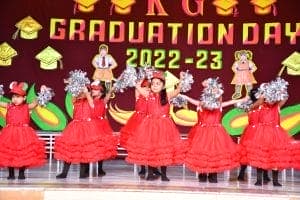 showcasing captivating performance by students in My Fantasy World:, Toy World and the Retro and Metro sync , The Montfort song in commemoration of the 350 birth anniversary of St. Montfort was a poignant moment, reminding everyone of the school's rich heritage and tradition. The finale was the celebration of the Graduation ceremony which marked the end of the K.G. journey for the little ones motivating them to embark in their academic journey with confidence and enthusiasm.