St. Paul's High School hosted the Inaugural Ceremony of Bro. Jagan Mohan Reddy and Bro. Ravi Kumar Reddy VI Memorial Inter School Basketball Tournament in its premises on 24 November 2022. A Special assembly was held to commemorate the seventh death anniversary of the departed souls of Bro. Jagan and Bro. Ravi.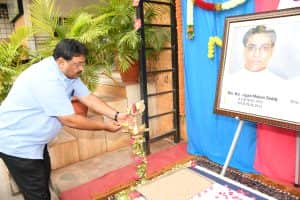 A total number of 29 teams from the length and breadth of the city gathered in all solemnity and paid their respects by lighting candles and offering a floral tribute.
The Bursar, Rev. Bro. Arogyam declared the tournament open. The Principal Rev. Bro. Sudhakar Reddy and the Director & Correspondent Rev. Bro. K. M. Joseph graced the occasion and wished the participating teams to do their best. Mr. Norman Isaac, Technical Delegate FIBA, Chairman,
Technical Commission BFI, General Secretary Telangana Basketball Association, stood as a motivational tower for the young players
The General Secretary of the School Cabinet, Master Mohammed Ahmed welcomed the different teams and motivated them to play the game with a teamspirit and follow the nuances of the Legendary players like Michael Jordan and Lebnon James.
The inaugural ceremony concluded with a loud cheering of the students of classes 5,6 and 7 and the singing of the National Anthem in its true spirit.
BROTHER JAGAN MOHAN REDDY AND BROTHER RAVI KUMAR REDDY VI MEMORIAL INTER SCHOOL BASKETBALL TOURNAMENT
Valedictory Function
The valedictory function of Brother Jagan Mohan Reddy and Brother Ravi Kumar Reddy VI Memorial Inter School Basketball Tournament  2022 was organised on 25th  November 2022 at St. Paul's High School.
Seventeen teams in the boys category and  Eleven teams in the girls category participated and held the game in the true spirit of the competition .
The Director and Correspondent Rev. Bro K.M. Joseph, the Principal Rev. Bro. Sudhakar Reddy and the Bursar Rev. Bro. Arogyam who graced the occasion applauded  the players  and encouraged them to hold streadfast the spirit of sportsmanship
The winners in the boys category was bagged by Chirec School Kondapur and the winners in the girls category was bagged by DPS Kajaguda.
Yesterday and Today 
Had been a day
of
Mind blowing matches
Skilled players
Experienced coaches
Righteous  referees
And
Energized Spectators
Making this Tournament
An Outstanding one.
The school choir in their mellifluous voices and great solemnity began  the occasion with a prayer song and concluded the event with the singing of the National Anthem
The faculty of PET department was much  appreciated  by one and all for the smooth conduct of the Tournament.